Church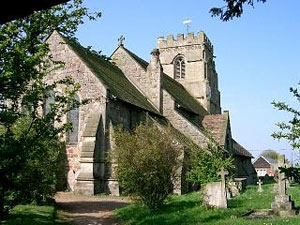 Service times
1st Sunday - Morning Worship 9.30am
2nd Sunday - Holy Communion 9.30am
3rd Sunday- Morning Worship 9.30am
4th Sunday - Evening Service 6.30pm
We welcome visitors to our church, which has a lively pattern of modern and traditional services. Visitors of all denominations are always welcome to share fully in any services.
The building is open to visitors on request during the winter (November - April)
Please contact one of the Churchwardens or Margaret Birch (01743 709859). They will be happy to give you a key to look around or give a tour.
Churchwardens
Sue Woods: 01743 709624 pr.sewoods@yahoo.co.uk
Lin Carding: 01743 243732 carding.linda932@gmail.com
About the building
St Lucia's Grade II* church has stood at the centre of the village for over a thousand years. It is one of only two churches in the country to have the dedication to St Lucia, patron saint of light and eyesight.
Built in local stone at a similar time to nearby Haughmond Abbey. The Chancel is dated from the 12th century with two existing pairs of small Norman, possibly Saxon, round arched windows; archaeologists believe some foundation stones are Saxon. The west tower is a "glorious example of Perpendicular architecture." completed in 1475 and contains a good ring of six bells, the majority from the seventeenth century, three of the original bells and the chiming bell (1499) remain being described as 'very old, very rare and very precious'.
There is an interesting memorial of a recumbent figure in Elizabethan costume commemorating Walter Barker of Haughmond who died in 1644. The ornate organ is a good example of a small church organ. The Gothic Revival architect G.E. Street rebuilt and restored much of the church in the late 1850's, adding the north aisle, vestry, marble and stone reredos, a distinctive altar and much of the stained glass, including the St Lucia window.
A wall painting of Jesus being baptised by John the Baptist is visible near the font and many more wall paintings are now emerging after being painted over in the 1950s. A survey in 2016 stated that these wall paintings are of great significance and bespoke to the church, as is the Chancel ceiling. Extensive restoration of these wall paintings was completed in 2021.
A recent modernisation project has seen the installation of a tea point and toilet facilities, following substantial repairs to the fabric of the church. Working alongside the RNIB to provide suitable activities that we hope can be enjoyed and extended to all. Braille and large print guide books are available in addition to an audio/visual monitor.
Outside a substantial well maintained churchyard, habitat for mason bees, areas of wild bluebells and a memorial daffodil bank, sensory garden, several listed tombs, WW11 grave and a listed oak lychgate.